Are you inviting children to your wedding or it's an "adults only" party? It is a good idea to consider this point early in your planning process as both options require a bit of organizing in advance.
If you are planning a wedding without children, it is advisable to send this information with the invitations. Your guests will need to organize childminders well in advance, particularly big families. Some parents will be delighted to have a day (or weekend) to themselves, but some others might still wish they could bring their little ones.
But most Irish couples welcome kids to their wedding. Did you know that 26% of couples getting married have children themselves?
Know how many children will attend your wedding, their ages, and plan for this. Nothing worse than a bunch of bored children running around! But with a bit of planning, you can turn this to a fab day for them too.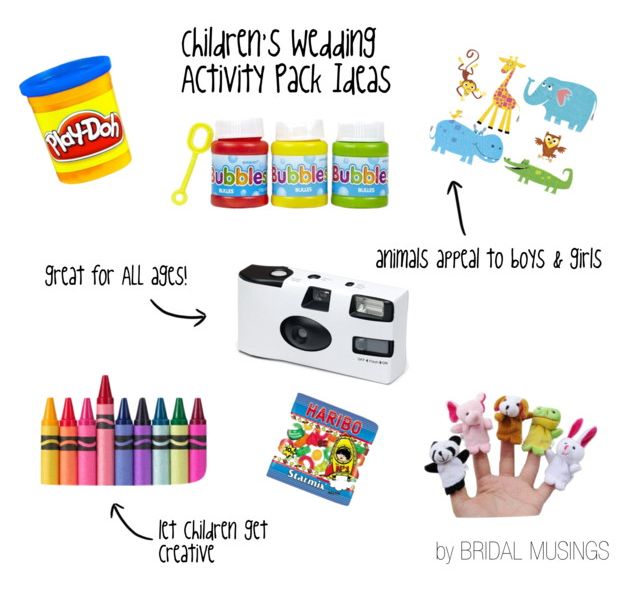 (Photo by Bridal Musings)
If you are planning on a tight budget, surprise them with goody bags full of little toys (from spinning tops to kiddies' magazines) that will keep them entertained and playing together. To keep the budget low but still make it really special, find out what each kid likes and get them stickers or little figurines from their favorite cartoon characters, that will really surprise them. Ask someone to help you with this as it will take a bit of time to personalize the goody bags.
Consider having babysitting service on the night of your wedding. If you are having your wedding at a hotel and most of your guests are staying there, ask in advanced to your wedding coordinator for recommended local babysitters. You'll be able to send the kids to bed when the champagne starts taking effect… and the mums and dads will be able to stay for the second part of the Tickled Pink show (which it gets pretty hot and rocky I must add…!).
Another great option is to have a children's entertainer at the wedding. Some entertainers are "multi-talented" and they can do face painting, balloons, puppets or a magic show. For better use of this, have the entertainer set up her show at a quiet corner in the ballroom, and ask her to start the entertainment after the meal. Parents will be glad to be able to sit down and chat to people, and enjoy the speeches without having to run after their little ones.
More ideas on entertaining children at weddings coming up next week!
Happy planning!