Professional – Quality – Fun
Your Questions Answered
We can take care of your entertainment for your special day from the moment you contact us until the last person leaves the dance floor on the night.
We can tailor-make your wedding entertainment. We want to help you dance together, laugh together and have fun together!
We understand that there are always questions you may have about all aspects of the music and entertainment for your wedding, after all, it's not something you do every day, so it's all new to you.
Even silly things can be daunting when you are planning the entertainment for the whole day;
the church ceremony,
the music when your guests arrive at the venue,
entertainment for the kids,
the music for after the meal and speeches,
and finally, the DJ to end the night.
Until you have all your questions answered, you just can't relax!
Here, we will try to set your mind at rest over some of the things we can take off for you.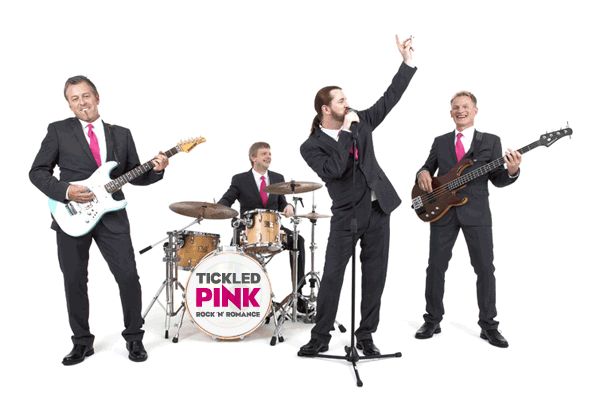 How long does the band play for?
The band plays for two and a half hours. The band will play for an hour in their grey suits, and following a short break, another hour and a half in their pink costumes. If you would like to change the ratio of both performances, please contact us for more details.
How long does the DJ play for?
The DJ will start immediately after the band is finished and will play till venue curfew for a maximum of two hours. PRO-TIP It's always a really good idea when planning the evenings entertainment to plan backwards from the venue cerfew time. 
Can I request songs fro the band to play?
Yes you can as Tickled Pink can perform a great variety of music throughout the performance and we will discuss with you well in advance of your event the songs that best suit your special occasion. 
Can I request songs for the DJ to play?
Yes of course. If you like you can prepare a list of your favorite songs for the DJ and he can include them in his set while keeping the momentum of the evening going. Guests are also welcome to request songs on the fly as the night progresses.
When does the band set up their equipment?
The equipment is normally set up after the meal and speeches. We will set up our modern compact equipment discreetly in less than 40 minutes. If required we can do an early afternoon setup. (There will be an additional fee incurred).
Can I request that the band play our first dance song?
Yes. Tickled Pink would be delighted to perform your first dance song for you provided it meets some criteria. Should you prefer to have the original format, our D.J. can play the song from our DJ system.
How do I book Tickled Pink?
Contact us and speak to Johnny to secure your date. A booking contract is required to confirm your booking. One month before your wedding, we will contact you again to discuss schedule details and any other requirements for your special day.
Did We Answer Your Questions?
If not, please don't hesitate to call us or if you prefer,
drop us a quick email. We will be delighted to help you.
Testimonials
What They Say