We all believe that music touches the soul and lifts the spirit. Whether we are dressed to impress in our dapper grey suits, or in our loud pink costumes and matching make-up, we're all about entertaining you and your guests.
You can tailor make your night's entertainment with a choice between our two very distinct band personas. We can be as sensible and swish or as off the wall and wacky as you choose.
We really want to help you to create unique and fun memories that will have you and your guests smiling (and maybe blushing!) for years to come. We want to help you dance together, laugh together and have fun together!
So who are we?
Collectively we have been playing in the music industry for over 20 years. Some of us have rubbed shoulders with Irish legends U2, Def Leppard and our very own Imelda May. We have joined forces to bring the best of our talents to events all over Ireland.
Rob Vickers – Lead Vocals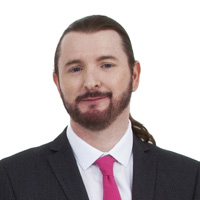 From performing for the president of Ireland to rocking it out for world music legends U2, the stage is where Rob Vickers is at home. With over 18 years experience as one of Ireland's greatest entertainers, Rob's skills as a musician, top professional front man and solo artist has seen him perform in Europe and America and as far away as Australia, including a 3 years spent starring as Jean Valjean in Les Misérables in the West End. In Christmas 2012, Rob Vickers received worldwide success with "A Song for Lily-Mae" Tiny Dancer. The single went Multi-Platinum and charted number #1 for 3 weeks in the Irish and International download charts.
Rob has been involved with Tickled Pink from its very inception and with his incredible talent and wealth of experience, Rob has helped craft the band into what it has become today.
Johnny Angel – Bass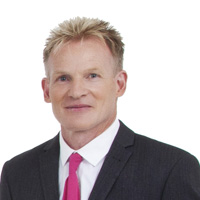 Johnny started his musical career with No Sweat, an Irish rock band, in the early 1990s. Best remembered for their hit single, "Heart and Soul" (produced by the Def Leppard frontman Joe Elliott), which topped the Irish Singles Chart in 1990, No Sweat, their self-titled album went on to achieve gold status in sales in Ireland.
Not much has changed about Johnny's performance over the years, he is still an energetic and dynamic bass player with a zest for life that is infectious to those who see him perform, and he feels as comfortable on stage as he is jumping with the audience on the dance floor.
His love for the stage and musical extravaganza has lead Johnny to create his own productions for the Irish entertainment industry with acts characterised by their energy, fun and audience interaction such as The Glitterbugs, Glamtastic, Charlies Angels, Funky Nights and now Tickled Pink!
Graham Carey – Drums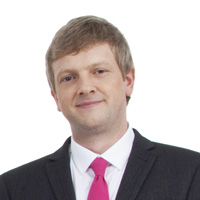 Graham Carey has over 15 years of experience as a professional musician and tutor. Over the years he has played extensively throughout Europe and North America sharing stages with acts such as The Beautiful South, Gerry Fish and The Mud Bug Club and Ronan Keating. He continues to play gigs weekly with many of Ireland's most popular acts including Jack L, The Camembert Quartet (The Late Late Show Band), Boogie Nights, The Firm, The Hit Connection, 20th Century Gold, Rebel Rebel (David Bowie Tribute), Hard To Touch, The Glitterbugs, Perfect Day and many, many more.
Graham brings a wealth of experience and talent to Tickled Pink, not only as a superb musician, but as creative person behind the scene also.
Conor Curran – Guitar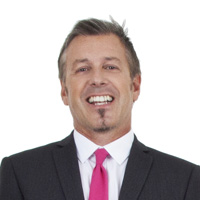 Conor formed his first band at the age of 12. And since then he has been performing with the top bands in the country. Conor is a sought after guitar player by bands in the industry, only recently performing on the Late Late Show with Conor McKeon and the Crooks. Conor has been a proud supporter of local talents, not only by tutoring young musicians, but also performing in musical theatre himself.
Conor's stage performance is second to none. He is one of those musicians who makes hard work look incredibly easy. He exudes personality both on and off stage and he is a big asset to Tickled Pink stage shows.