The First Dance is a very special moment of the night. It marks the end of the more formal part of the celebration, and it is the start of the evening party. The newlyweds dance close together in front of all their guests, a very romantic moment indeed! You will be on the spotlight, the filming crew will make that moment immortal… so be prepared for that dance!
But, how can you plan for this part of the night?
Needless to say, the first dance song must be romantic and talk about love.
It is helpful to start by making a list of songs that are meaningful to both of you. But each of you could also list your most favorite songs …wouldn't it be fun to share all these tunes you adore but you never said?
Use this opportunity to share emotions, let them all go ahhh and ohhh watching you and your dearest one dancing close together. Nothing better than a good soppy/corny/amorous song such as "And when you smile / The whole world stops and stares for a while …" to get smiles and tears of joy from your bridesmaids and guests.
Pick a song you can dance to! Can you easily move to that tune? If your very special song is not a song to dance to, maybe you can have it played at some other point during the celebration.
If you have a theme for your wedding, pick a song that goes well with that theme. What about "At Last" by Etta James for our beautiful vintage weddings? Or "Nothing else matters" by Metalica for our rock-loving couples?
Don't get too obsessed with being classy. It is crucial to keep weddings elegant and pretty, even simple casual celebrations. But keep in mind that a wedding is a celebration, a party. People will always remember more about the fun they had. Why not surprise them with a lovely tune or a cute dance routine and make them smile and get the cameras/smartphones filming.
For those that feel really panicky about it, you could choose a floor filler and get the band/DJ to encourage people to join you on the dance floor halfway thought!
If you are stumped for some ideas these are some of the songs our couples chose in 2017:
Everything – Michael Bubble.
Just the way you are – Bruno Mars.
Ho, Hey from The Lumineers.
You've got the love – Florence and the Machine.
Halo – Beyonce
Someone like you – Adele
Zephyr Song – Red Hot Chilly Peppers
I do – 98 Degrees
For once in my life – Stevie Wonder
Perfect – Ed Sheeran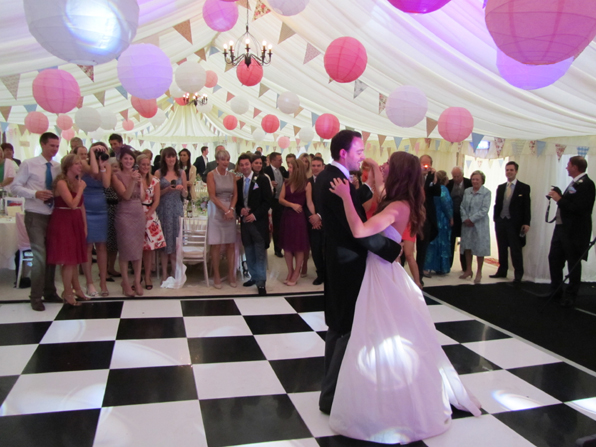 Having given you some suggestions there don't look on the internet at long lists of suggested first dance songs by other couples; your first dance song will be a favorite song that is very special to you and your fiancé. It's usually an obvious choice that you both associate with a special time in your early courtship. Go with your hearts instincts.
Many couples wonder if they should ask their band to play the song live or let the DJ play the original one. This depends on the type of song you like and if this matches the type of band you have. Discuss your ideas with your band to find the best option.
Happy planning!